ILM Series
ATC16 this model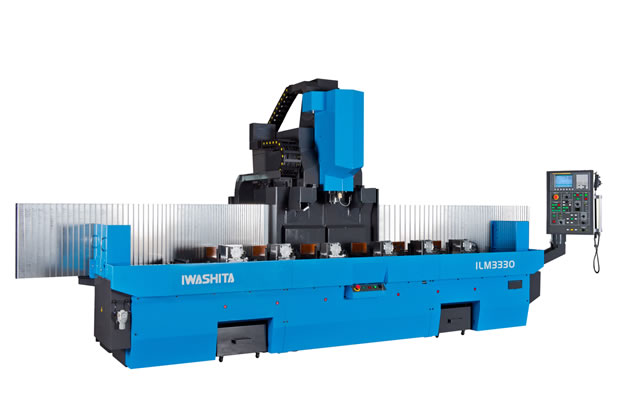 3m model ILM3330 (Air Vise)

Long work-piece NC processing Machine Catalogue
Features of Long work-piece NC processing Machine ILM Series
Best suited for processes of endmill, making holes, and tapping of Long work-piece materials.
Designed with tool magazine built into the column, allowing tool change to be performed at any selected position.
Compatible up to 8m model.
Available in Air Vise Type or Table Type
Speeding rapid traverse rate up to 40m/min to the X direction and 20m/min to the Y・Z direction.
ATC tool changing speed is up 30% from the original machine.
Producible products with Long work-piece NC processing Machine ILM Series
Housing materials, building materials, building exterior, aluminum frames (FA related devices, conveyor, constructional material for cleanroom covers),
Interior frames of aircrafts, stringers for structural parts of aircrafts
Wall surface frames of railroad vehicles, parts for safety fence for home doors
Materials that can be processed with Long work-piece NC processing Machine
Aluminum, iron (some condition applied), carbon fiber reinforced plastics (CFRP)
*Consult with us for any other materials.
Basic Specifications
Model
ILM3320
ILM3330
ILM3340
ILM3350
ILM3360
Spindle longitudinal travel
2050mm
3050mm
4050mm
5050mm
6050mm
Numbers of Air Vise
3
4
5
6
7
Spindle vertical travel
330mm
Distance from spindle end to vise top
300(150~450)mm
Rapid traverse rate (X) 
40m/min Speed up !
Rapid traverse rate(Y/Z)
20m/min Speed up !
Spindle motor
3.7/5.5kw
Spindle taper
BT40
Spindle speed
80~8000min-1
Numbers of ATC turret head
16
Control device
FANUC0i-M

Long work-piece NC processing Machine Catalogue
Optional Specification
BT50 option
Angle head(requiring separate type tool holder)
Spindle cross travel option 430mm
Air blow
Air vise option
Cutting oil (coolant) unit
Standard size stopper option
Telescopic cover (X axis)

Mobile type operation panel
Touch sensor (vibration type)
Sub operation panel
Auto tool length measurement unit
Slotting attachment
Revolving warning tower light
Specified color